Africa – you can see a sunset and believe you have witnessed the Hand of God. You watch the slope lope of a lioness and forget to breathe. You marvel at the tripod of a giraffe bent to water. 
In Africa, there are iridescent blues on the wings of birds that you do not see anywhere else in nature. In Africa, in the midday heart, you can see blisters in the atmosphere. When you are in Africa, you feel primordial, rocked in the cradle of the world. Jodi Picoult
Travel. As much as you can. As far as you can. As long as you can and say yes to new adventures.
"I do hope that my bucket list will become, someday, a beautiful reality, until then more bucket lists to write down and more work to fulfill more big dreams."
Said myself in this post two years ago. Ahhh, I really had to reshare this post. Almost two years passed and I am still hoping that someday I will make this bucket list a gorgeous reality.
Africa is a continent of wild open savannas, terracotta sunsets, thousands of vibrant green hills and rugged coastlines.
Here, you can be chugging along on a rickety old railway one day and standing atop a crescent-shaped, rust-coloured sand dune the next.
As American author John Hemingway once said, "If I have ever seen magic, it has been in Africa." (Rough Guides)
Dare to live the life you've always wanted.
'Safari' traditionally means journey in Swahili and there's no end to the amazing adventures this continent offers but as a starting point, here are my Eastern & Southern Africa's Top 10 Must Do's:
1. Gorilla Trekking, Bwindi Impenetrable Forest, Uganda
Bwindi Impenetrable Forest National Park is best known for its outstanding gorilla tracking, but it also provides refuge to elephant, chimpanzee, monkeys and various small antelope and bird species.
If you book a Uganda safari without Gorilla trekking then you will have missed an opportunity to see these rare and threatened gorillas. The variant biodiversity is supported by the fact that Bwindi is extremely old and also its slopes extend over a broad altitudinal range of 1447 m above sea level, enabling habitats ranging from lowland forest to Afromontane vegetation. (Uganda Wild Life)
Gorilla Trekking
---
2. Walking Safari, South Luangwa National Park, Zambia
South Luangwa National Park in Zambia is famous for it's guided walking safaris, the activity was initiated in the late 60s  by national parks and wildlife service. A Zambia walking safari in offers a unique way to experience the bush and observe the African wildlife.
A typical walking safari from Kaingo camp or Mwamba Bush Camp has  a duration of approximately 3 hours. There are a number of beautiful walks around both of our camps that highlight the specialities of the area.
From Kaingo, these  include walking through our several hundred year old, 3 km long ebony forest;  various waterholes and inland lagoons  and  along tributaries from the main Luangwa river.
From Mwamba, walks take in the Mwamba river, the Crocodile river and beautiful Mopane woodland which is dotted with inland waterholes. (Kaingo)
Walking Safari, South Luangwa National Park
---
3. Mokoro Ride, Okavango Delta, Botswana
The mokoro or makoro – (mekoro, plural), is a traditional canoe-like vessel commonly used in the Okavango Delta as a popular mode of transport, and now utilised for game viewing safaris. The makoro has become the iconic symbol of the Delta and is a popular way for visitors to explore the Okavango while on safari. (botswana.co.za)
Mokoro Ride, Okavango Delta
---
4. See the Wildebeest Migration, Serengeti National Park, Tanzania
The great Serengeti wildebeest migration is the movement of vast numbers of the Serengeti's wildebeest, accompanied by large numbers of zebra, and smaller numbers of Grant's gazelle, Thomson's gazelle, eland and impala.
These move in an annual pattern which is fairly predictable. They migrating throughout the year, constantly seeking fresh grazing and, it's now thought, better quality water. The precise timing of the Serengeti wildebeest migration is entirely dependent upon the rainfall patterns each year – here we explain how the broad pattern works. (Expert Africa)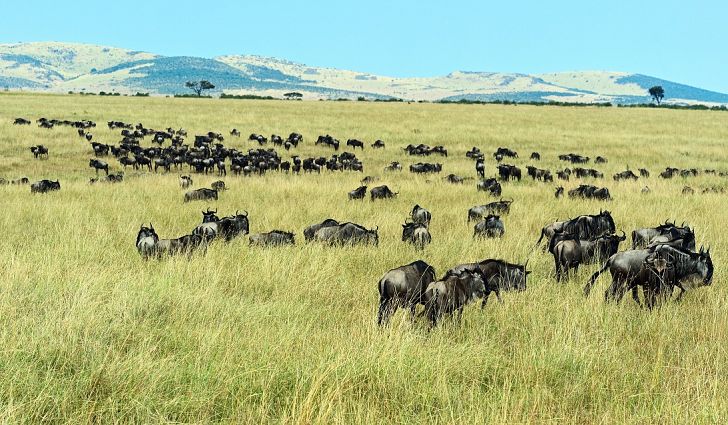 The Wildebeest Migration, Serengeti National Park
---
5. Climb Mount Kilimanjaro, Mount Kilimanjaro National Park 
Mount Kilimanjaro is the highest mountain in Africa and the tallest freestanding mountain on earth. Crowned with an everlasting snow-cap, this majestic mountain can be found inside the Kilimanjaro National Park of Tanzania, at 005.00 degrees south, 036 degrees east, 5895m a.m.s.l. (ClimbingKilimanjaro)
Mount Kilimanjaro National Park
---
6. Hot Air Balloon, Masai Mara National Reserve, Kenya
Hot air balloon rides are exhilarating in any setting. A hot air balloon safari over Masai Mara National Reserve, though, is a once-in-a-lifetime experience. 
The day of your hot air balloon safari with AfricanMecca begins before dawn. You awaken to the quiet sounds of the East African bush – soft calls of indigenous birds, rustling vegetation signaling the presence of a large mammal, low snorts and grunts of hippos returning to the river and may be a distant roar of a lion.
Your memories are filled with images of the prior day's game drive through Masai Mara National Reserve. Your curiosity is piqued as to the wonder and amazement you are sure to feel as you drift above the savannah plains in a hot air balloon.
A soft voice outside your tent pulls you back to reality, and you hurriedly dress in your favorite Kenya safari attire. You are sure that the air will be cool, so you don long trousers and a comfortable shirt before putting on your hiking shoes. As you head out, you grab the last of your belongings – a hat, long-sleeved jacket or warm fleece, camera and binoculars. (AfricanMeccaSafaris)
Hot Air Balloon, Masai Mara National Reserve
---
7. Stand on top of Table Mountain, Cape Town, South Africa
Table Mountain is probably the first thing you notice as you drive or fly into Cape Town. It is "mesa" that stands ominously above the city.
It offers excellent trad climbing with incredible views to go with it. Table Mountain is a National Monument, hence no bolting is allowed. Also, it is almost always possible to protect whatever you might be climbing with removable "trad gear" although there are some fixed pieces in situ. (a 32/8b climb was put up in July 2003).
There are several abseil (rappel) points at strategic places; some with bolts and chains to assist with descents. Should you wish to take the cable car to the top, be sure to get there about a half hour prior to opening time to avoid the long queues in tourist season and on the weekends and public holidays in good weather. (climbing.co.za)
Stand on top of Table Mountain, Cape Town, South Africa
---
8. Flight of Angels, Victoria Falls, Zimbabwe
It originated from the phrase coined by David Livingstone when he first documented discovering the falls: "Scenes so lovely must have been gazed upon by Angels in Their Flight". I think it is a great name, it describes this activity perfectly as it is surely one of the finest experiences you can have. At ground level you can feel the enormous power of the Victoria Falls as tremendous volumes of water pound into the chasm below. But it is only when you take to the air that you can take in the whole panorama and enormity of this mighty spectacle. (victoriafalls-guide.net)
Flight of Angels, Victoria Falls
---
9. Whale Shark Diving, Mozambique Coast, Mozambique
Dive or snorkel with Whale Sharks and Manta Rays in the warm waters of the Indian Ocean along the Mozambique coastline and marvel at their grace and beauty.
They are quite curious towards humans and being in the water with them is an unforgettable highlight for any Mozambique holiday.
The Whale Shark is an amazing animal to observe closely and you do not even need to be a qualified diver to swim with these gentle creatures from the deep. They have peaceful natures and are quite harmless. Humans appear to be their only predator with hunting practices now on the rise. (mozambique.co.za)
Whale Shark Diving, Mozambique Coast
---
10. Watch the sunrise from Dune 45, Sossusvlei, Namibia
Watching sunrise at Dune 45 is considered on of the top things to do in Sossusvlei Namibia. What is more magical than a sunrise? A sunrise surrounded by massive orangy red sand dunes…
Dune 45 is 85 meter high and climbing it is allowed. It is accessed via a paved road so it is one of the most photographed Sand dunes. It is part of the Sossusvlei area where dunes are shaped like stars with multiple arms. It is one of the top things to do in Namibia. (zigzagonearth.com)
Sossusvlei, Namibia
---
And this is my bucket list for Eastern & Southern Africa, based on Your African Bucket List
I do hope that my bucket list will become, someday, a beautiful reality, until then more bucket lists to write down and more work to fulfill more big dreams.
Do you have a bucket list when it comes to travel?
Feel free to like it and to share it on your socials by using the share buttons down below!
See you on my next post 😍 Many exciting surprises are planned ahead, so stay tuned 🔜
Dream big & Make it happen
xxAve
Here are some awesome posts you can check too:
Eastern & Southern Africa: Top 10 Must Do's at-a-glance:
If I have ever seen magic, it has been in Africa. John Hemingway