Hello lovelies 🙂 How's everything going? Enhance your gorgeous personality with these six fascinating beauty products who are the essence of beauty, health and the art of subtle charm
1. Care & Dare by Dior – 5 Couleurs Focus Palette
In one word: stunning. The new summer "Care & Dare" collection by Dior offers us the freedom to emphasise our personality with a boost of skincare ingredients and new reinvented, more pigmented and more fine colors.
"The mood of my collection for summer 2017 is based on two key concepts: "Care" – protection, hydration, comfort – and "Dare" – fun, color and adventure."  states Peter Philips, the Creative and Image Director of Dior Makeup.
Here are a few of this amazing beauty products:
---
2. Les Beiges Healthy Glow Gel Touch Foundation by Chanel
If you want to retouch you makeup or if you want a more natural finish look, Les Beiges Healthy Glow Gel Touch Foundation is the perfect solution.
"LES BEIGES HEALTHY GLOW GEL TOUCH FOUNDATION is an innovative gel foundation that reveals a complexion glowing with freshness and radiance. Its dewy finish revives the skin at any time of day. Its ultra-fine, fresh aqua-gel texture provides buildable coverage on either bare skin or over existing makeup for any touch-ups. For extra convenience, its flexible fabric screen releases the perfect dose. "
---
3. Mythic Oil Nourishing Oil by L'Oréal Professionnel
Shine, nourishment, anti-frizz? The L'Oréal Professionnel bestsellers's Mythic Oil Nourishing Oil is your solution. The new formula has a high concentration of active natural oils, is infused with avocado and grape seed oils, enhances any hair type and instantly nourishes the hair for radiant shine and manageability. 
---
4. Matte Shaker Liquid Lipstick by Lancôme
After the famous "Shake It, Twist It, Love It! Colors that turn you on!", of course, Juicy Shaker, Lancôme launch a matte version – Matte Shaker Liquid Lipstick. The Matte Shaker Liquid Lipstick has high pigments, water-in-oil emulsion and Vitamin E.
This formula is not drying out the lips, it keep the lips hydrated and coloured all day long. The cute and ingenious applicator – pillow-like cushion – allows for precise application – no streaks or smudges.
Quick tip, in order to maximize the product's effectiveness:
Shake the bottle prior to application, to saturate the cushion with the formula;
Allow for 90 seconds of drying-time post application for a comfort matte dry-down effect.
---
5. Re-Nutriv Ultimate Lift Regenerating Youth Creme by Estée Lauder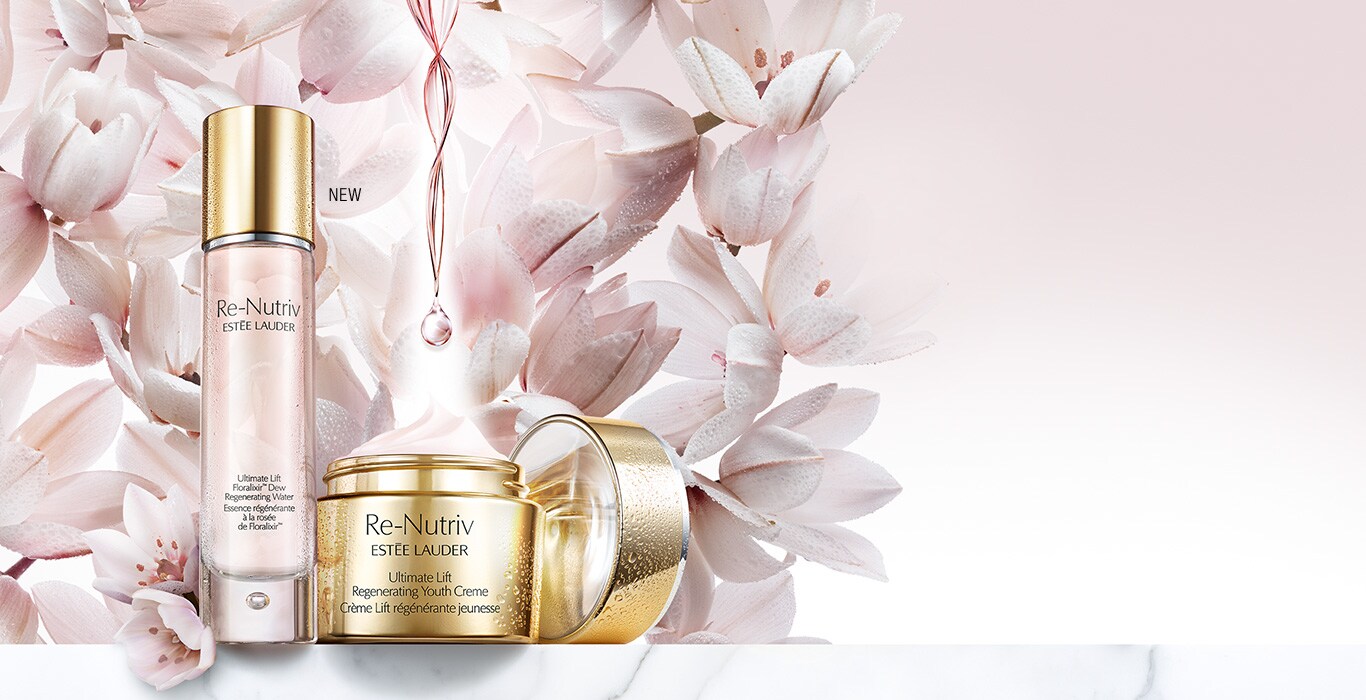 The new Ultimate Lift collection, Re-Nutriv was inspired by Estée Lauder's legendary love of flowers. It's not about any kind of flowers, it's about two precious flowers that grow in extreme temperatures, one that thrive in the frigid Himalayas and the other one in the parched highlands of Brazil.
The potent flower extracts are imprinted into the mineral-enriched Ionic Water resulting something extraordinary, the elixir of youth.
The Re-Nutriv Ultimate Lift Regenerating Youth Creme it strengthens the skin revealing a more lifted and radiant look with a visible rejuvenation effect of the skin.
Quick tip:
Every morning and night, cleanse and dry your skin. Then apply the Floalixir™ Dew Regenerating Water, followed by the Serum, then the Creme or Creme Gelée and the Eye Creme.
---
6. Tuscan Soul Quintessential Collection by Salvatore Ferragamo – Viola Essenziale
A journey within the Tuscan Soul. The place where Salvatore Ferragamo's dreams came true, Tuscany, with its beauty and traditions, has always been a source of creativity and vision for Mr. Ferragamo.
The brand introduces the Tuscan Soul Quintessential Collection "in the heart of the Apuan Alps, surrounded by the breathtaking scenery of the caves  where Michelangelo chose the marble for his masterpieces". Therefore, the brand pays a tribute to this Italian heaven. The collection represents the essence of an aromatic poetry, a symbolic approach to celebrate beauty.
The collection is made of six dazzling fragrances:
Let the summer begin! Take care of your beauty and health 😘
Which of these beauty products you already tried? And which ones are you planning to try? Let me now in the comments! 💄
I hope you enjoyed this post and see you on my next post 😍 Many exciting surprises are planned ahead, so stay tuned 🔜
Next on: Bring on the weekend – 25 wonderful weekend pleasures